Products Catalogs & Keywords:
Products Image: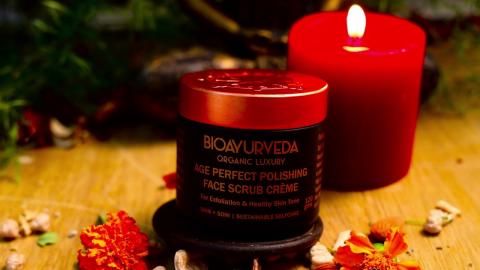 BIOAYURVEDA Age Perfect Polishing Face Scrub Cream is a distinctive amalgam of organic herbs, along with vital essential & natural oils and is formulated to unclog pores and clears blackheads. Revitalizing and refreshing it helps remove dead skin and facilitates cellular regeneration. This skin polishing facial scrub is just the right kind of natural product that eases your scrubbing routine as it is quite convenient to use. You can always buy this organic Age Perfect Polishing Face Scrub Cream from the Ayurveda shop online. Some of the benefits of this organic skin polishing facial scrub are as follows:-
1) This skin polishing facial scrub scrub deals with the hideous flaky skin which could further lead to dry patches.
2) It has antioxidant properties to rejuvenate the dull and tired skin due to the accumulation of dead cells.
3) It is suitable for men, women, and teens and effective for all skin types like Oily, Dry or Combination.
4) Haldi or Turmeric in this face scrub helps to detoxify, refresh and revitalize the integrity of the skin.