Products Catalogs & Keywords:
Products Image: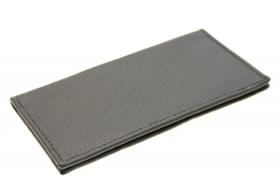 Men or women's checkbook cover. Features 3 credit card slots, an ID slot and plastic carbon copy separator for your checkbook. Slim and simple design that will meet all your needs. Made of soft top grain chrome tanned leather, this wallet will last you a long time. Made in America.
Product Details
◦Leather Type-Chrome tanned top grain leather
◦Color- Black
◦Style- Men Or Women's Checkbook Cover
◦Width closed- 3 1/2" (8.9cm)
◦Length closed - 6 1/2" (16.5cm)
◦Thickness closed - 3/8" (0.7cm)
◦Credit Card Slots - 3
◦Identification Slots - 1
◦Additional Slots - 1 behind the card slots for extra storage
◦Additional Info - Has a carbon copy separator
◦Lining - Fabric
◦Made In USA
FOB Price:USD $20.95
Minimum Order Quantity:
Place of Origin:
Item No. :
Payment Terms: L/C,D/A,D/P,T/T,Western Union,paypal
Products Description:
Buyers, Please let us know,you get the info from msnho.com ,you can get a Special Discounts.