Products Catalogs & Keywords:
Products Image: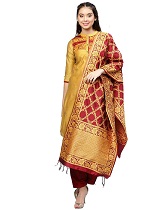 FOB Price:IN
Minimum Order Quantity:1
Place of Origin:India
Item No. :JKPTD3484
Payment Terms: Credit Card, Debit Card, Western Union,paypal
Products Description:Jaipur Kurti Women Yellow and Maroon Solid Straight Chanderi Kurta with Patiala and Brocade Dupatta. This Chanderi kurta has Side Slit, Buttons, Border Detailing with 3/4th Sleeves and Mandarin Collar. Paired with Regular Maroon Patiala and Brocade Dupatta.
Shop Now! - https://www.wholesalejaipurkurti.com/suit-sets.html